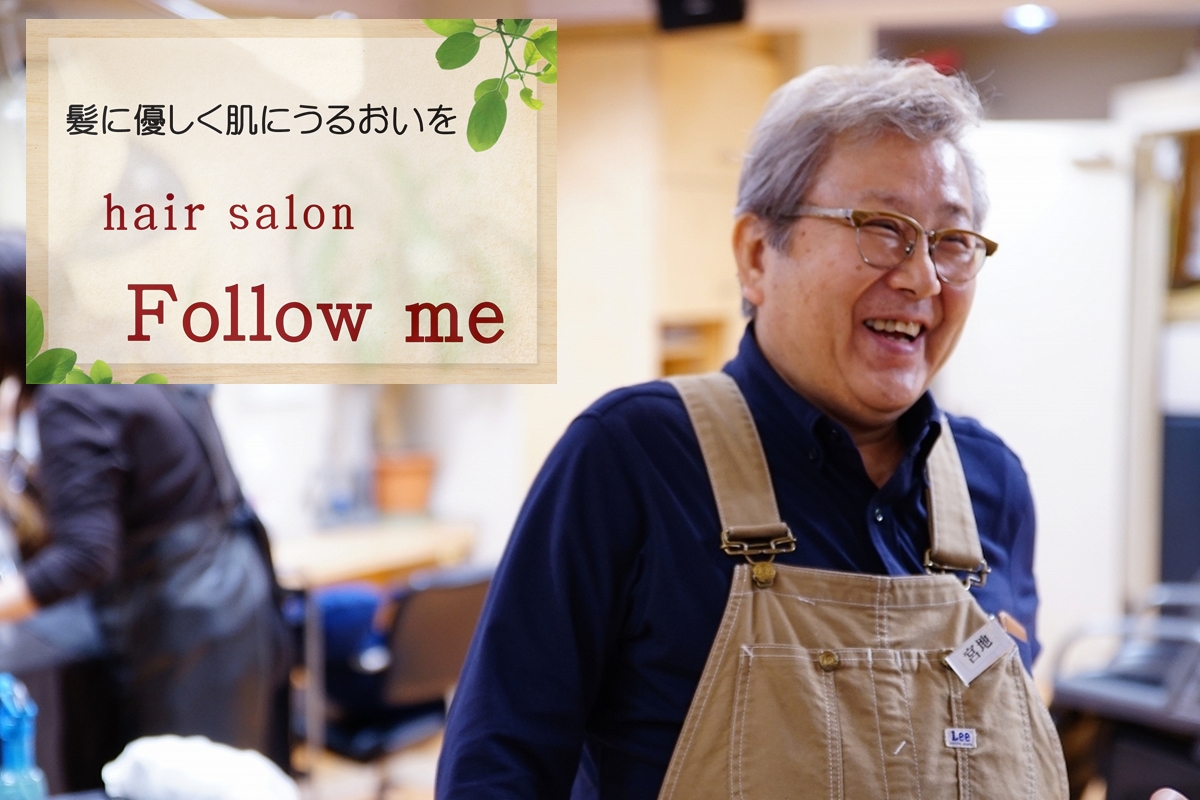 CONCEPT
Musashi Koyama Beauty Salon "Follow me" treats your hair gentle and moisturizes your skin
Musashi Koyama Beauty Salon "Follow me" help you to get better your alopecia(Hair loss) and thin-hair problem.

"Musashi Koyama Beauty Salon "Follow me" is based on the concept that we use well-selected hair-care products for your healthy hair and scalp with rich moisture, and even for our earth's environment. our salon can ameliorate people with thin hair. Introducing the "Be One System" which allows you to enjoy hair color, comfortable scalp, perming color and color.
The "Be One System" helps water penetration into the scalp and hair, and it exerts an excellent effect in care for damaged hair.
Also, the Detox Shampoo and "Haoniko & Sonic Treatment" have received high support from men's customers.
Those who want solid and firm elasticity in your hair, please come and join us.
SERVICE
Musashi Koyama Beauty Salon Follow me will improve your troubles of hair and scalp
Musashi Koyama Beauty Salon Follow me's Be One System
Counseling
Follow me at Musashi Koyama will guide you to organic perming · curling to improve your hair and scalp problems from Haoniko & Sonic Treatment to Treatment Color.
You can experience the detoxification of "scalp", "hair" and hair straightening / hair straightening in Follow me.
To the desired style
Be-One system will improve your scalp with its scalp care / anti-aging effect.
By mixing Be-One water with coloring agent and perm solution, it relaxes harmful components to the body and hair, making it less burdensome to the natural environment as well as the human environment.
The detoxified pores will become lively, smooth, and hair growth effect can be expected.
Clean and Polite finish ♪
Musashi Koyama Follow me is a relaxing salon 3 minute away from Musashikoyama Station that brings out the charm and personality of the customer.
We enhance your glamour and attention for each customer and we always try to make up for shortcomings even a little.
Please leave hair making such as cut & perm, hair growth, adult ceremony etc to us!
Follow me Musashi Koyama details
Store name
Follow me Musashi Koyama store
phone
03-5702-2063
Street address
Tokyo 3 –
13 – 6 Koyama Shinagawa-ku Tokyo Toyoga Mansion 102
business hours
AM 9: 30 ~ PM 7: 00
Thursday) ~ PM 9: 00
Sunday) AM 8: 30 ~ PM 6: 00
Regular holiday
Tuesday Third Tuesday and Wednesday consecutive holidays
Official site
Beauty salon Folomy Musashi Koyama store
credit card
Various handling available
Industry
Beauty salon
Follow me menu
| | |
| --- | --- |
| Shampoo | |
| Detox shampoo | ¥ 2,500 |
| Scalp washing | ¥ 6,000 ~ |
| | |
| Set | |
| Blow | ¥ 2,000 ~ |
| Set | ¥ 2,200 |
| Up | ¥ 3,500 – |
| Summary Hair | ¥ 2,500 |
| | |
| Cut | |
| Cut | ¥ 3,000 ~ |
| Student discount (College, University) | ¥ 2,500 |
| Student discount (Middle/ High school) | ¥ 2,000 ~ |
| Student discount (Preschool, Elementary) | ¥ 1,500 – |
| Treatment | |
| awa treatment | ¥ 500 |
| Color keep | ¥ 2,000 |
| Bright hair treatment | ¥ 5,500 – |
| SuperSonic & HAHONICO | ¥ 5,000 |
| | |
| Perm | |
| regular | ¥ 7,000 ~ |
| Sistine | ¥ 8,000 ~ |
| Relaxing curl | ¥ 9,000 ~ |
| Be-One (water perm) | ¥ 9,000 ~ |
| Be-One detox (water perm) | ¥ 11,000 ~ |
| Digital (system cure) | ¥ 10,000 – |
| | |
| Coloring | |
| Gray hair dye | ¥ 3,500 – |
| Be-One hair dye | ¥ 5,000 ~ |
| Fashionable dye | ¥ 4,500 – |
| Be-One fashionable dye | ¥ 5,700 – |
| Non diamine color | ¥ 4,000 ~ |
| | |
| Hair straightening correction | |
| Detox Hair quality improvement / correction | ¥ 20,000 |
| Repair (Yuko system) | ¥ 20,000 ~ |
| Repair (Initial) | ¥ 18,000 ~ |
| Bright hair straightening correction | ¥ 15,000 ~ |
| Straight & straightening | ¥ 12,000 ~ |
| | |
| Dressing up | |
| Visiting dress | ¥ 6,000 ~ |
| Dawn | ¥ 8,000 ~ |
| Yukata | ¥ 4,000 ~ |
| Seven, five, three (including hair set) | ¥ 10,000 – |
| Adult ceremony (including hair set) | ¥ 13,000 ~ |