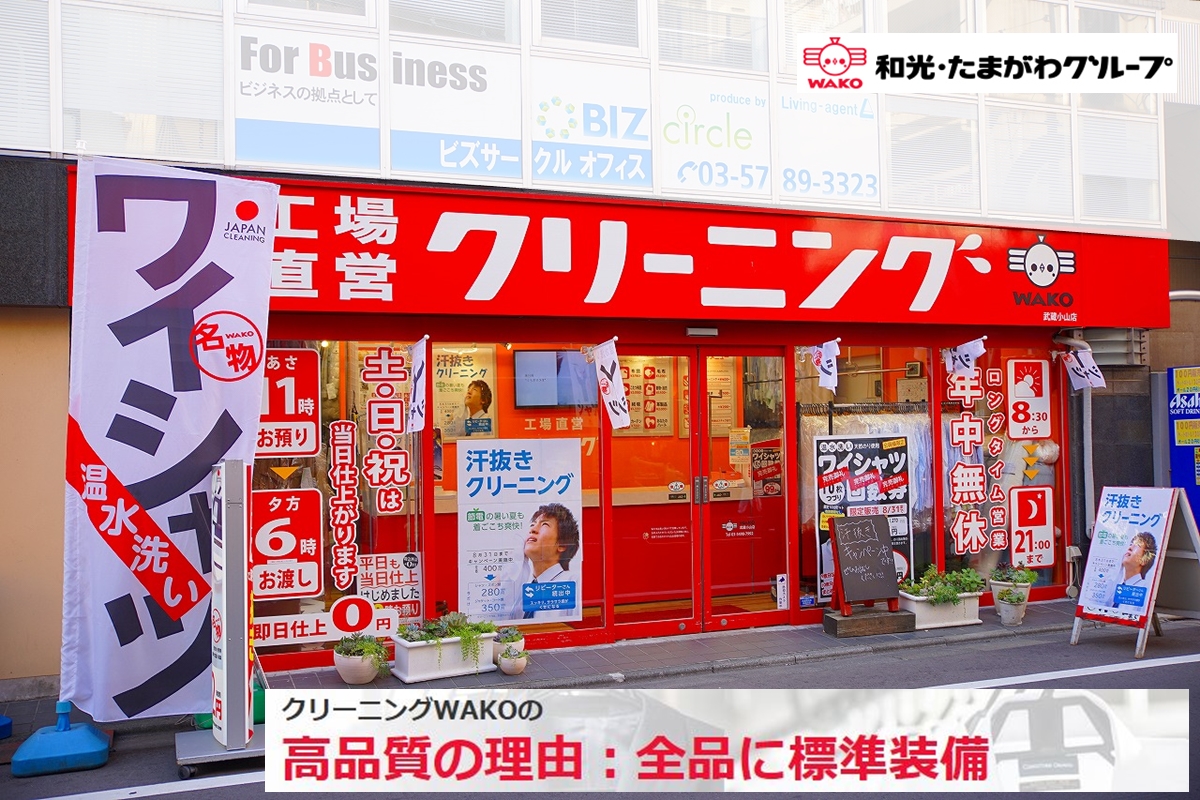 Cleaning WAKO's hot water wash shirt
In cleaning shops it is said that shirts are the most ordered and it reflects the quality if the shop. Based on our experience of more than 40 years, we have been particular about shirt washing. Let's introduce the secret of wash shirt that customers will be delighted with.
Special 01
With 40℃ hot wash, dirt can be perfectly washed off
There are several reasons for washing with hot water. First of all, sebum dist can not be washed off with cold water. Since sebum dirt turns into a liquid when it reaches a temperature close to 40°C, we will make the sebum dirt easy to fall using warm water. In addition, it is desirable to use hot water above 60°C in order to demonstrate the effectiveness of detergents, but if you wash it above 60°C, there is a danger that the shirt will shrink. To be able to wash with the effectiveness of detergents and the temperature pros, we reached to a temperature of 40 degrees.
Special02
Better shirts every wash Natural glue & and softener of silicone compounding
We use natural materials (cornstarch) that do not harm you even if it is a eaten . Although chemistry paste is easier and more efficient to handle, our company will finish with natural finish even if the efficiency is bad. Natural paste has an advantage that it is easier to wash and fall than chemical paste. When cleaning the shirt, the glue that is coated on the surface falls with the dirt when worn. When washing a regular shirt of a customer many times, the natural glue is more gentle to the material of the item and the dirt falls better. Because it is a shirt that touches the skin directly, natural materials are more friendly to the body of the customer, and there is also a sense of security. Softener with silicon agent adds supple and smoothness to the shirt.
Special 03
A plack that can not be done with a home iron "Firm" Press
At our company, our press machine plaque focusing on the placket (button part of shirt). By washing the shirt with warm water, the placket part shrinks slightly although it is slight. Therefore, press the machine on the placket, I will firmly stretch. Even in the case of shape memory shirts that are sensitive to high temperatures, this front press is very effective.
Special 04
Free button install if broken
If your button is broken or if it is taken, we have a servise to install it for free. If there is a spare button attached to the shirt, you will attach a spare button. When there is no spare button, we try to attach similar buttons from about 10 types of buttons we always prepare. It is a service that has been well received by salaried workers who do not have the opportunity to sew alone by themselves and wives who are not good at sewing. We will also repair buttons that have been removed and buttons that have been taken off, so please feel free to tell us.
Special 05
Use a high-class hanger that is difficult to collapse
Even if the interior of the closet got stuffed up and pressured on the shirt, I use "hanging collar" hanger. Although it is a hanger with high cost as a cleaning shop, I think that it is worth the service, only by showing the V zone of the shirt peeping from the jacket, I adopt the first-class manufacturer hanger.
Cleaning WAKO free stain removal
Usually stain reoval is charged and it costs money, but if it is a stain that falls with a little effort, we will take the stain for free.
Of course, there is also a fee strike-out course for those that do not fall pretty well, so we recommend using properly depending on the condition.
Types of stain
Typical examples
Characteristic
Water soluble stains
Sweat, soy sauce, sauce, coffee, tea, fruit juice, alcohol, eating spill etc.
A type of spot easily soluble in water. As soon as it is around, you may just fall off with water
Oily spots
Chocolate, lipstick, machine oil, edible oil, foundation etc
A type of stain easily soluble in oil. I will remove the stain with dry cleaning solvent
Insoluble stain
Soil, mud, dust, rust, ink ink, gel ink ballpoint pen etc.
A type of spot that does not dissolve in water or oil. Effective method of embossing stains with hand grenades and brushes
* In addition to the above, there are also some blotches that are compounded
Cleaning WAKO Message from Musashi Oyama store
Hospitality 6 principles
• We will respond with a smile
• I will call your name at least twice during customer service
• We will welcome customers at 3S of cleaning (seisou), organizing(seiri) and cleaning (seiton) at any time
• Be sure to add a plus one voice to greetings
• We will inform you of the service contents in an easy-to-understand manner
• We will "base on" as the basic spirit
Cleaning WAKO Musashi Oyama store details
| | |
| --- | --- |
| Store name | Cleaning WAKO Musashi Koyama store |
| phone | 03-5498-7992 |
| Street address | 3-21-10, Koyama, Shinagawa Ku, Tokyo To, 142-0062, Japan |
| business hours | 8:30-21:00 |
| Regular holiday | No fixed holiday (※ except year end and New Year holidays and Bon Festival holidays) |
| credit card | × |
| Official site | Cleaning WAKO |
| Industry | cleaning |